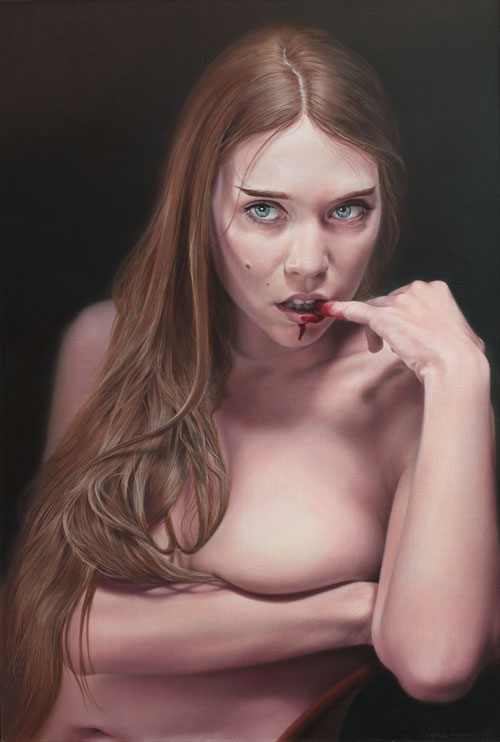 Dornröschen (Little Briar Rose)




The vast majority of young people experience disappointment when they realise that the world does not fit the image which was presented by their parents. All of a sudden, principles of morality, as well as concepts of Love and Righteousness, become relative; they appear to be rare phenomena rather than a rule. However' parents' intentions are undeniably benevolent. Love encourages them to protect their children from anything that could harm their happiness and cause them pain.

In the well-known Grimm Brothers' fairy tale, the parents of a young princess wish to prevent the inevitable – the fulfilment of the prophecy that brings pain and puts an end to the life they lived.

The Little Briar Rose that I have portrayed did not depart from reality by falling into a deep sleep as did the one from the fairy tale. On the contrary, the experience of pain forces her to remain awake and aware, thinking of the new reality - the maturing, the first period, her own future, as well as the seductive appeal which she gets when the red lipstick is put on. Moreover, she thinks about the prince that will also play his part, which is much different from the original one.
Starry Sky




Attractive and charismatic female, a dancer, a model or a pop star in ecstasy, shot from her profile is an iconic picture in pop culture. However, the pose itself seems to conceal the opposite side of her body and face, leaving it invisible to a spectator. I wonder if those ladies would look equally appealing if photographed from the other side. Does the glamour aim to mask a detail that could be considered inappropriate?

The girl from the painting who posed similarly is just as dashing and attractive. On the other hand, her hair is natural, her face without any makeup. She does not use glamour to mask her vulnerability, inner pain and disillusion.
Nude
Marina
, the model and inspiration for these paintings claims that the main reason for her teenage anorexia was her unwillingness to embrace her altered body. By losing her body weight she tried to eliminate the curves of her female body and menstruation, the sign of the sexual maturity.
Due to her individual beliefs that are more often than not influenced by predominant fashion and culture, she refuses to accept her natural look. Such an attitude, accompanied by anxieties, is the central motif of this painting.
She and She




"All animals are equal, but some animals are more equal than others"
George Orwell

The process of intellectual maturity of a young person brings the awareness of the social hierarchy. Social rank often traces one's opportunities for both self- fulfilment as well as getting certain social status.

The most beautiful view can be seen when one looks from the top of the social pyramid.